What's new in Watcher ver. 21.09
One of the main features of Flussonic Watcher is recording from a large number of sources and instant access to video data on events and traffic markers. In version 21.09, the focus is on improving system performance and stability when working with more than 10,000 cameras with Agent. The stability problems that could occur when restarting the system are now non-existent. In our test, 12,000 Agents were connected almost simultaneously after a restart.

As a marketing strategy, telecommunications operators can provide free access to some cameras (installed at crossroads, for example) in order to attract the attention of private real estate developments or other potential clients. In this new version, we have improved the Watcher user interface to make access to free cameras more intuitive for users. Learn more.

The video analytic module of Watcher detects and recognizes faces and car license plates. A screenshot is now returned for preview from the analytic module instead of taking a frame from the video. This allows the subscriber to see in the screenshot exactly the moment in the video when the analysis module detected the event. We also support automatic cleanup procedures as events with screenshots are stored in the main server database and use a significant amount of disk space. It is now possible to enable these features on the camera settings page or in a camera preset.

We do not recommend using JPEG thumbnails as this increases CPU usage. This new help article describes how to get MP4 screenshots. You will find this information to be very useful if:
– The cameras are installed to monitor "slow processes" (construction or growing crops)
– Customers have developed their own web user interface or application, and it is necessary to display camera previews as they are displayed in Watcher.


Watcher offers mobile applications to access a video surveillance system in real time and provides an archive, event log, among other features. In version 21.09, we have made the branding procedure for clients faster and easier. The form for entering brand data by the customer (such as an App Store description, logo, etc.) has become more intuitive. We have included suggestions and instructions to make this process easier.


We have included AltLinux operating system support for government projects in Russia. (The RPM package for this version of Linux is available upon request.)
What's new in Flussonic ver. 21.09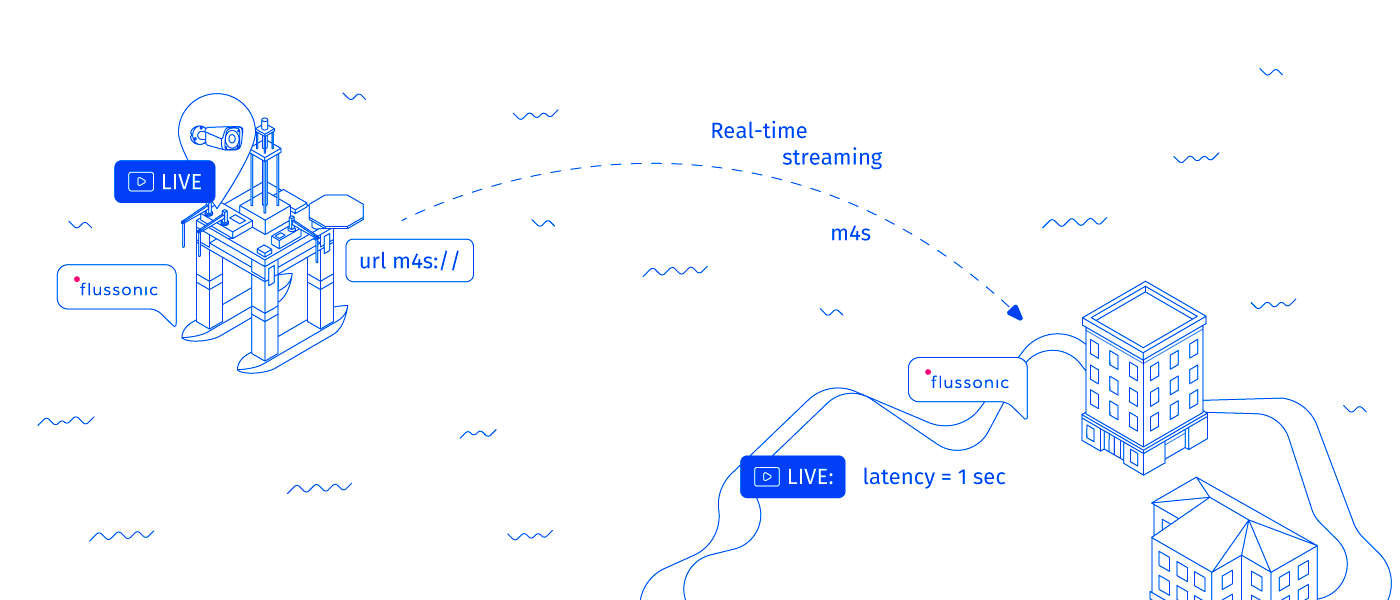 Real-time delivery in a cluster. Flussonic has two proprietary protocols: M4S, which is ideal for re-streaming live video with low delay (up to 2 seconds), and M4F which provides information about the source DVR to the restreamer. This contains data about the transmission path, multimedia information and the name of the transmission. M4F also has precise timestamps which makes video delivery better than using other protocols. Starting from version 21.09, it is possible to access an external DVR by adding an M4S source (m4s://). Flussonic will automatically check for its existence. If the DVR exists, the server will access it using M4F. This allows for a very low latency configuration for live streaming and, at the same time, cluster M4F access to the archive. See how to set up a low latency cluster.

For the smooth operation of some devices, it is important to accept only those tracks that a particular device can play. We fixed the PID specification filter in mpts-udp:// sources.

It's now possible to modify the teletext descriptor fields in stream settings (see how to use the option). This can be useful, for example, while distributing the same stream to several regions which have different requirements for teletext displaying.

Passing private_command SCTE-35 markers is fixed.

Publishing RTMP streams from the Blackmagic ATEM Mini switcher to Flussonic performs well. We have fixed the issue when the switcher was disconnected from Flussonic.

There are new dthreads and scale parameters for tuning the pushing to Decklink 4K. These parameters allow you to optimize and improve the stability of the stream.

We fixed the issue where Flussonic with an empty configuration file didn't launch. Now Flussonic starts in activation mode, offering to set the Administrator's login and password.

MSE-LD Player (embed.html) is working again when HLS and MP4 protocols whitelist is enabled.

We fixed the issue where a separate IP port for HTTP API (admin_http) was still listening after being removed from config.

Sorting by bit rate is available in the new UI, so it's easy to control streams with too high or too low bit rate.